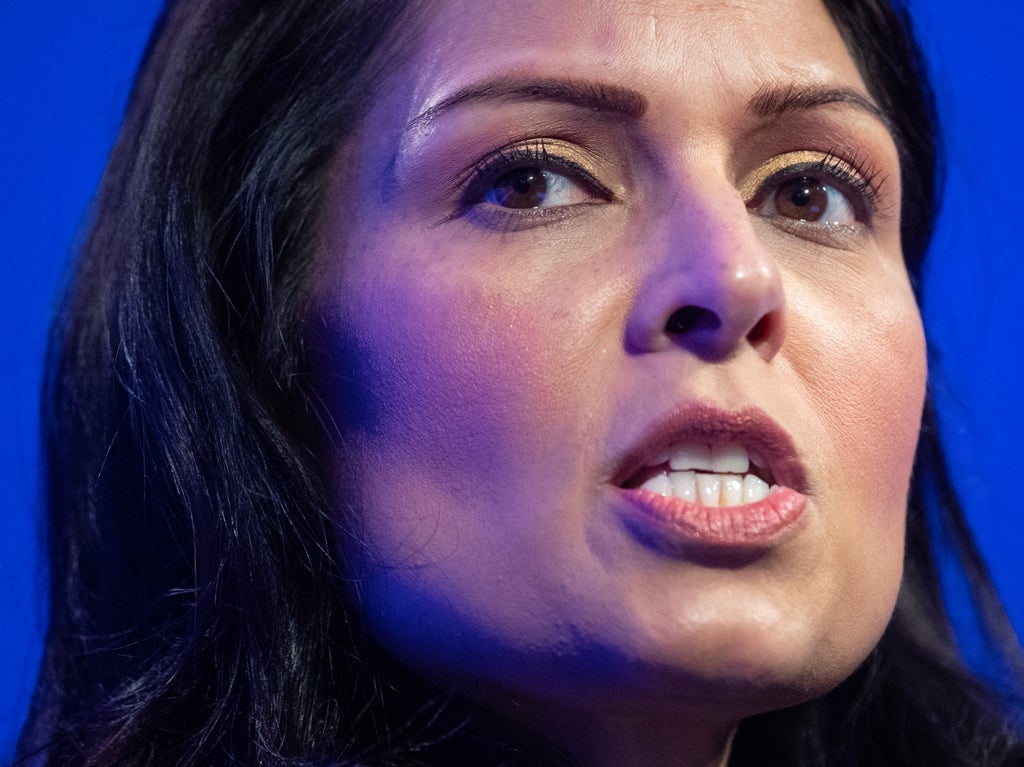 Gove jokes about his viral nightclub dancing video at Tory party conference
Day three of the Tory conference will see senior Cabinet ministers use their speeches to tackle crime, with home secretary Priti Patel expected to confirm a wave of draconian measures targeting protest groups such as Insulate Britain (IB) and Extinction Rebellion (XR).
Ms Patel will announce an increase in the maximum penalties for protestors disrupting a motorway, while also criminalising interference with major roads, railways and the press. The measures, to be called criminal disruption prevention orders, will also attempt to stop some climate activists travelling to protests and allow police to search them for equipment such as glue, handcuffs or chains.
Justice secretary Dominic Raab, who was demoted in the recent reshuffle, will similarly use his speech today to unveil a major expansion in the number of offenders wearing tags, as part of a £183m plan to expand the use of electronic monitoring to cut crime.
In the wake of the murder of Sarah Everard at the hands of police officer Wayne Couzens and the death of Sabina Nessa, he is also expected to promise to "transform" the way the justice system treats violence against women and make the streets safer so that "women can walk home at night, without having to look over their shoulder".
1633417186
Dramatic increase in round-the-clock tagging for ex-offenders
Dominic Raab is set to announce a dramatic escalation in the use of GPS tags to track ex-offenders, with almost double the number of offenders set to be tagged over the next three years in a bid to curb reoffending and protect victims.
In his first speech as justice secretary to the Conservative conference in Manchester, Mr Raab will set out plans to spend £183m to increase the use of satellite location devices to track the movement of released offenders around the clock, with the number tagged at any one time rising from 13,500 this year to about 25,000 by 2025.
And he will announce a £90m plan to increase to 8 million hours a year the community work carried out by offenders in what Boris Johnson has referred to as "fluorescent-jacketed chain gangs".
Our political editor Andrew Woodcock has the full report:
Sam Hancock5 October 2021 07:59
1633417058
Patel to unveil new powers against activists travelling to protests
Priti Patel will unveil draconian new powers to stop climate activists travelling to protests and to allow police to search them for equipment such as glue, handcuffs or chains.
The measures, to be called criminal disruption prevention orders, will bar repeat protesters from going to demonstrations, the home secretary will say – reviving memories of the targeting of striking miners attempting to reach pickets in the 1980s.
And a second crackdown will introduce stop-and-search powers in respect of people who are suspected of carrying items that would allow them to attach themselves to motorways.
The plans come amid growing Conservative fury about the way the group Insulate Britain has continued to block major roads, evading attempts to stop it.
Our deputy political editor Rob Merrick reports:
Sam Hancock5 October 2021 07:57
1633416357
Good morning, and welcome to The Independent's rolling coverage of UK politics. Stay tuned as we bring you the latest developments coming out of the Conservative Party conference as it enters its third day in Manchester.
Sam Hancock5 October 2021 07:45